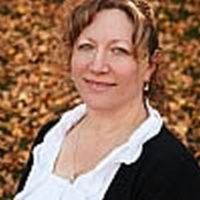 Michelle Murray was born in 1962 in Michigan and raised in Ohio before coming toAlberta, Canada as a young adult. She now resides in Edmonton, AB, Canada, with her husband Sean and her family. She is the mother of eight and grandmother of ten.
Michelle's earliest memories are of watching her grandfather paint and listening to his stories about her great, great grandfather who painted the church ceiling in Serra San Bruno, Italy. She had no idea at the time that one day she would follow in their footsteps. Her first revelation came at 14, when she and her best friend began sketching a vase together.  She realizes now that she was drawing "from life." It opened the floodgates for a lifelong passion.
After early training in Commercial Art, Michelle began to paint with oils in 2003. Representational oil paintings are her passionate focus. In love with oils from the very first brush stroke, she realized the breadth, depth and width of oils is inexhaustible.  Using the paint to its fullest, she uses thin transparent darks and thicker lights to add vibrancy to her work. After studying with Dan Gerhartz, the nuances of painting from life were opened before her. She paints life studies on location and work from life in the studio. Depicting beauty results from a special use of an illuminating light. Color, edges and value help her to breathe life into the canvas.
Figurative Artwork
Her favorite subjects are primarily women and children because they convey thought, emotion or mood so easily. It is her aim to capture the light and beauty of the moment, to tell the story of the splendor of everyday life and portray a simpler time, one that can't be defined.
Still Life
It is her desire to express the movement of light and richness of color, to capture the magnificence of the ordinary.
Her Philosophy
An excerpt from Pope Benedict XVI's letter to Artists has a special meaning to her. Her motto is Per Dei Gratium, Pro Dei Gloria: By God's Grace, for God's Glory. She signs each painting with the private dedication Tota Tua (totally yours). For her painting is a gift she received so she tries to give it back. She never paints without prayer first, there is a deep spiritual element to it.
"You are the custodians of beauty: thanks to your talent, you have the opportunity to speak to the heart of humanity, to touch individual and collective sensibilities, to call forth dreams and hopes, to broaden the horizons of knowledge and of human engagement… be grateful, then, for the gifts you have received and be fully conscious of your great responsibility to communicate beauty, to communicate in and through beauty!" -Pope Benedict XVI
Per Dei Gratium, Pro Dei Gloria