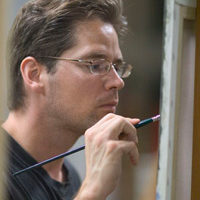 A pioneer in the video games industry, Mike previously had a long career as legendary developer BioWare's first artist, and for 12 years illustrated for some of the top RPG video games of all time. Mike's experience at BioWare creating box art, magazine covers, concept art and marketing illustrations allowed him to seamlessly transition in 2009 to pursue his true passion of fantasy illustration and oil painting.
For the past 5 years, Mike has illustrated RPG and card art for the gaming industry's top franchises, including Magic the Gathering, World of Warcraft, Star Wars, Pathfinder and Dungeons and Dragons. Now working almost exclusively in oils, Mike is at home combining gaming illustration with his love for the craft of painting. Mike's work has appeared in the Spectrum annual, as well as featured in magazines such as ImagineFX and Fantasy Art (China).
Recently, Mike's success in painting traditionally has led to exhibiting in 2013 and 2014 at the Allentown Art Museum in the Illuxcon salon. Illuxcon is an annual juried celebration of the best in imaginative realist art. Additionally, in 2014, Mike was a finalist for the prestigious International ARC Salon Competition in the imaginative realism category.