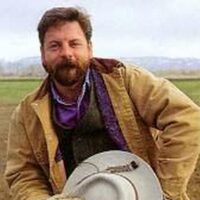 A true outdoorsman of the American West, Paco Young made his home near the Gallatin River outside of Bozeman, MT, with his wife and young son in an environment that provided constant and ever-changing inspiration for his art. He was passionate about each painting because he painted familiar subjects that he loved. Young's favorite way in which to work was painting en plein air, or outdoors on location. He felt that this technique taught him the most about painting.
Young's subjects were almost entirely derived from trips to nearby Yellowstone, Grand Teton and Glacier National Parks. He once said, "There's an endless source of inspiring subject matter in the Northern Rockies. While I may include wildlife or figures in my paintings, they are usually secondary or lend support to the landscape. My paintings are often more about paint itself than the subject depicted because I find so much pleasure and excitement in the simple process of moving paint and creating a real impression of life."
Reflecting a level of maturity that comes from years of passionate work and dedication, Young's paintings evolved into a painterly style well-suited to convey the wild beauty of his surroundings. During a career that spanned more than 20 years, Young traveled extensively and exhibited at hundreds of gallery and museum shows including the Leigh Yawkey Woodson Art Museum, C.M. Russell Museum, Gilcrease Museum and the Trailside Galleries. The National Park Service commissioned him to do a painting of Old Faithful, the famous geyser in Yellowstone National Park. Young's 4′ x 6′ original oil has now been permanently installed over the grand fireplace at the historic Old Faithful Inn.Paco Young, 47 died on December 1st 2005 after a courageous battle with Leukemia. A self-made man who became one of today's most talented and successful wildlife artists.