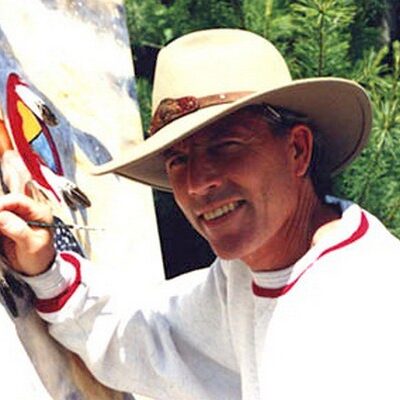 Rob Glenesk is a self-taught artist, who has explored several mediums of expression including wood carving, sculpting, pencils, acrylics and watercolours.
While pursuing a degree in Education, Rob worked during the summers in the Yukon and Northwest Territories. Here he became fascinated with the indigenous culture and their connection to earth.  Following university he became a recreation director on a First Nation Community in Northern Alberta. This provided the opportunity to learn about plants and animals as well as the traditional crafts such as: leather working, snowshoe and birch bark canoe construction from Native elders. Rob loves adventure and being outside. His boots, canoe, skis and horses have covered a lot of Western Canada. His favorite place to paint is in his self-made tipi. All these inspired his nickname "Running Shoe", which has been shortened to "Shoe". This symbol now accompanies his signature on every image.
After teaching children for more than 24 years Rob Glenesk became full time artist in 1994. His creative desire and interest in ancient and indigenous cultures has led him to discover an aerial perspective that is valued by art collectors for its uniqueness and message contents. He has won three mayor awards in National arts competitions. Through his paintings Glenesk has developed fascinating seminars. He incorporated his skills as a teacher to offer presentations to professionals and public groups focusing on bringing powerful ancient concepts into present day life.
"There are many beautiful and powerful ancient teachings that if understood and used collectively would move this planet and everything on it in a very, very positive direction"
– Rob Glenesk