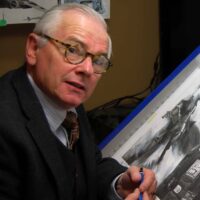 Robert Bailey is an Artist Fellow with the American Society of Aviation Artists (A.S.A.A.) and a member of the Canadian Aviation Artists' Association. He was born and raised in Staffordshire, England. Bailey attended Longton College of Art and for years was in television as a photographer and show host, then in newspapers as a designer, photographer and writer. He has been drawing and painting warplanes since he was four years of age; says that he was 'sidetracked' into television and newspaper careers before realizing his dream of becoming an aviation artist
A professional, best-selling combat artist, Robert Bailey's art is widely collected in five countries around the world.
He released a new title about every eight weeks for over three years, traveling across the USA and Germany to obtain original signatures for his limited edition art projects. Bailey likes to supervise the signings himself, as he loves to meet the pilots and ground-crews of the aircraft he depicts in World War II action. Meeting signees is both the most exciting and final phase of each of his projects. He is privileged to have made many firm friends who once flew for the air forces of the United States, Britain, Canada and Germany.