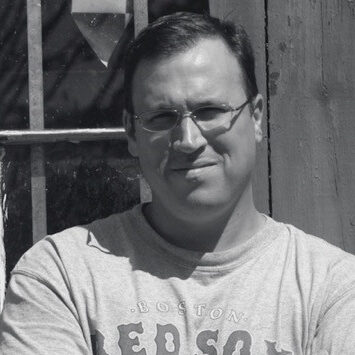 Birds. Animals. Abandoned stone mills. Old barns. Bare tree limbs and branches. The richly detailed images and scenes created by this unique artist reflect his passion and love for the beauty and complexities of nature. The elegant graphite pencil art of Massachusetts wildlife and portrait artist Ryan Douglas Jacque demonstrates his mastery of realism, composition and use of negative space. Over the years Ryan's original works have been juried into fine art exhibitions around the US and Canada. Ryan's art has appeared in magazines and periodicals and even on beer bottles from one of his favorite local breweries!
Ryan's portrait of internationally celebrated wildlife artist/naturalist Robert Bateman was gifted to Mr. Bateman in 2013. Mr. Bateman loved it so much that the portrait was enlarged and is on permanent display at The Robert Bateman Centre in Victoria, BC.
Ryan is a member of The Society of Animal Artists, received Master Pencil Artist status by The Pencil Art Society and is a Gold Status member of the Western Graphite Guild of Artists.
"I am a pencil artist plain and simple. The reason I chose this medium is because I love it. The challenge of taking dozens of reference photographs or deciding which pencil to use, which type of paper is best suited for a particular drawing, where to begin as I stare at the blank paper in front of me…..these things are all part of what artists go through behind the scenes before anyone ever sees the finished work. I am lucky that I enjoy the preparation and the creation in equal measure. My art gives me the chance to share my love and appreciation of nature and the natural world. I enjoy the challenge of using just my imagination and my pencil to create scenes that are richly detailed while at the same time, elegant and pleasing to the eye. Creating rich textural detail is part of what I love about my work. There is a difference between drawing something that looks like a good copy, and creating a work of art so lifelike that it looks as if it could be real. I love my job." – Ryan Jacque