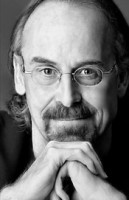 Steve Hanks is recognized as one of the best watercolour artists of our time. The detail, color and realism of Steve Hanks' paintings are unheard of in this difficult medium. A softly worn patterned quilt, the play of light on the thin veil of surf on sand, or the delicate expression of a child—-Steve Hanks captured these patterns of life better than anyone.Steve Hanks was born into a military family in San Diego in 1949. Hanks grew up playing tennis and surfing along the beaches of Southern California. "The ocean made a strong and lasting impression on me. It was good for the soul to be out in the water—surfing, swimming, or simply getting in touch with its mysterious power." After high school he attended the Academy of Fine Arts in San Francisco, earning excellent marks in commercial art and figure drawing. He transferred to the California College of Arts and Crafts, where he graduated with a Bachelor of Fine Arts degree.
Hanks called his style 'emotional realism'. He often left the faces of his figures obscured or turned away, not only to leave the face to the imagination of the viewer but also to allow the entire figure to express the emotion. Backlighting is also a signature element of his style.
Jurors, galleries and collectors have long recognized the stature of Steve Hanks' achievements. He received the National Watercolor Society Merit Award and the National Academy of Western Art Gold Medal, in addition to consistently appearing in the list of top ten American artists compiled by U.S. Art Magazine. Art for the Parks has honoured his work with many awards since 1989.
Steve Hanks passed away in 2015.