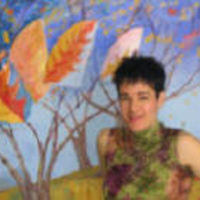 Biography of
Tania Garner Tomas
Tania Garner-Tomas is a Canadian artist born in Vancouver, B.C.  As a small child, she was constantly drawing, painting, and making sculptures in Pleistocene. She later grew to receive awards for design, drawing and painting while earning her Fine Arts Diploma at Central Technical School in Toronto. After Graduation, Garner-Tomas worked for five years in commercial advertising studios in Toronto before moving into Strathcona County where she currently lives and works.
You might recognize some of Garner-Tomas's larger work, such as the Canada Geese on the Interprovincial Pipeline tank on Baseline Road, or maybe you caught glimpse of her work in Millennium Place, or West Edmonton Mall. Tania enjoys workings in many mediums including: acrylic on canvas, bronze, stainless and mild steel and mixed medias.
"I love to create a feeling of life, motion, and shifting images. Animals,  stage lighting, costumes and the seasons inspire me"
Tania Garner-Tomas's work has been highly recognized and collected throughout Alberta, and she is also featured in Private and Corporate collections Nationally and in the United States, and Australia.