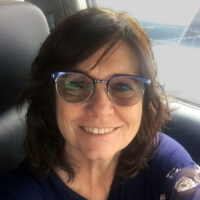 Terri's journey in glass fusing began at a fusing class in 2005.  She was immediately mesmerized by the qualities… colors, reflection, transparency, fragility and strength.
Working with glass combines the creative process with the technical challenges… glass chemistry, heat work and compatibility. Experimenting gives her the space to learn, at times fail and grow.  It's an exploration providing a world of possibilities.
Terri's glass studio is located just outside Sherwood Park, Alberta on her acreage and overlooks their pond.  They are fortunate to have numerous wildlife… ducks, geese, birds, moose and deer visit. Her surroundings inspire her, and she is constantly drawn to creating with glass.