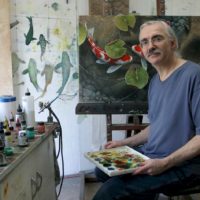 An ardent interest in the beauty of Koi, and the diversity of their colors and patterns, has led artist, Terry Gilecki, to devote his artistic endeavors to capturing their essence in his masterful paintings.
Born in 1954, in the prairie province of Saskatchewan, Gilecki attended college in Manitoba and received his diploma in Commercial Art by the age of 19. He then began work as a commercial sign writer and a free-lance commercial artist. His imagination, determination and a free spirit to create and innovate, led him to take on a variety of challenges that developed a wide range of artistic skills and techniques. He became well known for his airbrushed custom van and vehicle art in the 70's and eighties and after that going into the demanding business independently producing large pictorial art for international advertising corporations with a talented staff he had personally trained. Although his commercial endeavors consumed much of his time he always made time to paint fine art that he displayed along with his talented staff in a gallery space attached to the billboard production studio.
In 1991, Gileck and his family made the move to Vancouver where he found a greater demand for his "finer art" skills and talent, producing large scenic outdoor murals and designer wall finishes and murals for the designer home and commercial markets…
While on one of his many projects, fate led him to discover the world of the Koi while doing research for a client mural. It was an epiphany of a sorts that opened his eyes to a subject that impressed and affected him deeply. Further study of Koi brought him to the realization that It was a subject that he seen much potential as a creative source and would get much satisfaction creating a series… He had no idea that it would become the extensive series he has devoted the vast amount of his career as a fine artist.
It was his greatest inspiration and desire to be able to emulate the calming and restoring effect and simple pleasure that comes with taking a few moments to sit back to observe and absorb the energy of the Koi in their world. Gilecki is pleased that their 'effect' translated so well onto his canvas, allowing him to bring a small piece of that peaceful intimate paradise into a viewer's home."
The longer he paints them,.. he says, the more he discovers about their intelligence, individual characteristics and pet like ability to recognize and respond to their keepers. The Koi is a species that has a historic and deep connection to us. They are a species that would not even exist on this planet without our intervention. That relationship is evident to anyone who has spent time with them. Gilecki likes to sometimes include human elements into his art to represent the ties that bind the koi to humanity.
The Koi and the watery world they inhabit, have provided Terry with a seemingly endless source of inspiration. As you look at his art, you are drawn into an intimate world between the surreal and the real. The koi are living breathing conscious interactive characters, living in a world that fills you with an inner peace and a profound sense of calm.
Many of the techniques Terry has learned to master over his long and diverse art career have come together to form the unique concoction that is his art today.
From the physical application of the abstract textured medium foundations and spontaneous layering of multiple colored glazes and gel mediums… to the meticulous airbrush and brush rendering of the beautiful mesmerizing Koi and the world they live in.
His inspiration comes from not only what he sees "in" the fascinating water garden world but also what he sees reflected "on" the water's surface. He has discovered in this intimate and surreal space, a world as vast and interesting as any horizon could offer.
Terry now paints from his studio and home on rural Vancouver Island a beautiful and peaceful place that he and his wife and family have grown to love.
Terry's original Koi paintings and his selection of well over 50 limited edition prints can be found in collections world wide.
Some interesting Koi facts: Aside from the obvious diverse beauty, Gilecki likes to offer some information on the Koi themselves to show why he and so many others have a fondness and interest in them.
Today, Koi are bred in almost every country and considered to be the most popular fresh-water, ornamental pond fish. Shows are common world wide where collectors and breeders travel world wide to find the best Koi. They are often referred to as "living jewels" or "swimming flowers." In Japan, they were referred to as "Warriors Fish" and "The Fish of Nobility since they were beyond the means of the average person to buy and keep.
In Feng Shui philosophy, Koi are considered to be very lucky and a symbol of good fortune and wealth, particularly the gold color and in numbers of eight or nine.
Over the years breeders have developed a array of varieties and metallic and iridescent colors, some even having shades and patterns of blue.
Today, more common Koi can be purchased for as low as twenty dollars. If you are a more serious collector, prices for high quality Koi can cost as much as $25,000 with pedigree Koi values commonly climbing into the hundreds of thousands of dollars.
The current record koi purchase was in Japan in 2018 for 1.7 million US dollars.
Generally, Koi live 25 – 35 years. However, in the right conditions Koi can live much longer. In fact there is documented record of "Hanako" a koi that lived with a family in Asia for 3 generations. At 226 years old, it was the longest living fish ever recorded. The years they lived are counted on their permanent scales, like the rings of a tree. Koi can grow to 3 to 4 feet in a large deep pond and right conditions.
The heaviest Koi on record is in England weighing 91 lbs.
The ancestry of Koi has only been traced back a few hundred years. They are a mystery and it seems, a relatively new species that evolved through selective breeding of natural genetically mutated "albino" common carp which populated the rice paddies of China and Japan. Selective breeding is said to have originated in Japan but it remains a highly debated topic among Koi enthusiasts…
When Koi were first traded overseas into Europe and America they were transported on sailing ships, packed in nothing more than wet moss. The numbers that survived often months on the ocean became the ancestoral stock that are some of the most hardy Koi species today…