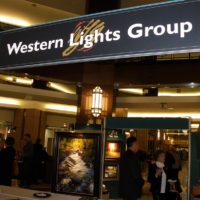 Biography of
The Western Lights Artists Group
An ever-changing collaboration of visual artists and perspectives, who come together to share the experience and inspiration of art in open public venues, for the enjoyment of all.
"Art exists in all of us. Learning to see life through the artist's eye can illuminate the world in a way that words cannot achieve."
Whether sailing the Pacific Northwest's passages, exploring remote islands, hiking the highlands, or engaging in spirited conversation on a terrace café, the Western Lights Artists Group, Roger Arndt, Jonn Einerssen, Brent Heighton, and Vance Theoret share a common focus.
Drawn together by their enjoyment of life, the paths that have led each artist to this fellowship are many. Widely traveled, and diverse in style and subject matter, each has devoted their life to art. Although the artists are strongly individualistic, companionship is one of the primary dynamics of the Western Lights Artists Group.
The art of the Western Lights Artists Group stands out as being among the best in the Northwest. Their work has been exhibited in Tokyo, England, France, and Australia, as well as the America's. Their original works, along with hand-enhanced Limited Giclee Editions, are available at fine art galleries throughout North America.
---