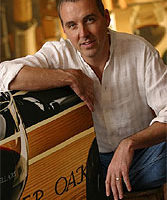 Thomas Arvid possesses an unerring ability to refine a moment. In doing so he captures our wonder and has become an art world phenomenon. Art Business News (May 2003) credits him with "launching a major art trend . . ." with his oversized still life compositions of wine and the rituals surrounding it. Arvid astounds viewers with the intricate details of his images and with his mastery of light, depth, and reflection.
The magic of his painting is in Arvid's ability to visualize and chronicle an entire scene beyond the frame – to tell a story of enjoyment and the good life – using lush color and adroit composition. Arvid is passionate about art and wine: a collector of both, he strives to capture the pleasure of a life well-lived on each canvas. An Atlanta resident and fresh-faced father of two young sons, the self-taught artist insists that wine should be approachable; his paintings are an embodiment of the casual way that we enjoy wine today. He is an appealing role model for a lifestyle of easy elegance and unpretentious charm.
Arvid's approach to wine and painting is surprising, given his background as a Detroit native raised to parlay his inherent artistic talent into a secure job in the industrial complex. Instead, Arvid made the leap into pursuing his art as a career, and with the support of his art historian wife and inspiration garnered during a backpacking trip through Europe, he began painting full time.
Drawn to wine by his focus on the color red, Arvid knew he had discovered something when his paintings featuring red wine were being purchased before they were finished. Arvid is awed by the response to his work, "Wine is a great subject because people are familiar with it; they really connect to it. My paintings are really the landscapes between people sharing wine – it's amazing that my collectors find personal fulfillment in my work, especially when I'm just doing what I love."
The aura surrounding Arvid's work is palpable. His international appeal has created such demand that his work is represented by over 50 elite art galleries in the US, Canada, and Japan; collectors are willing to wait years for one of his originals. Influential wineries such as Silver Oak Cellars, Far Niente, and Diamond Creek Winery collect Arvids because he translates the craftsmanship of wine to canvas. Doug Shafer, of Shafer Family Vineyards, likens Arvid's skill to that of a winemaker, "Arvid's style is big and bold, with enough selected detail and softness to create a sense of balance . . . this blend of elements is precisely what winemakers hope to bring to their top vintages."
Today, Thomas Arvid and his wife, Vanessa, head Thomas Arvid Fine Art, Inc., one of the most successful boutique art publishing companies in the country. Founded in 2000, the company distributes Arvid's limited editions and originals across the country and the world. In 2004 they released a retrospective of Arvid's work, "Arvid: Redefining the Modern Still Life," that traces the development of Arvid's style from its beginnings a decade ago to the lifestyle it is today. The book is a fitting chronicle to illustrate one of Arvid's favorite phrases, "Life without art is like dinner without wine. Why bother?"
---
About Fine Art Prints by Thomas Arvid
Limited Edition Giclees on Canvas
Limited Edition Giclee prints on canvas are the foundation of Arvid's Limited Edition Program. A giclee is an archival fine art reproduction printed with aqueous-based pigmented inks on pH neutral substrates that range from canvas to fine art watercolor paper. To create a giclee, a high resolution digital scan or photograph is taken of the original artwork, which is then printed on a large-format ink-jet printer which uses micro-droplets of archival pigmented ink to create prints that are unparalleled using any other print making process. With no visible dot pattern (as you get with other print making technologies), a giclee is able to reproduce the subtle tonalities and richness of the original in a way that other technologies do not. Once the first print is pulled from the press, Arvid scrutinizes it and puts it through a vigorous proofing process that requires multiple proofs and adjustments to ensure that the final print captures the subtlety and of his original paintings and to ensure that the final prints are incredibly sharp and accurate reproductions of his originals.
Limited Edition Artist Proofs on Canvas
Once the final proof is produced for a limited edition giclee on canvas, Arvid scrutinizes the image to identify areas where the color can be enhanced with paints to offer an even better representation of the original. These areas are hand painted to add more nuance to the print and to fully represent the deep palette of the original. As a final step, a thin layer of impasto (a gel medium used to add texture and subtle sheen) is applied to the whole print in order to show the texture of the brushstrokes in the original. The artist proofs are the closest representation of Arvid's originals in the limited edition program.
Limited Edition Giclees on Paper
Using the same process described above, the limited editions on paper are printed on archival fine-art paper and represent originals that were painted on paper, primarily using watercolor. These limited editions are generally framed behind glass and are offered with either a straight edge or a deckled edge (a rough, feathered edge).
Limited Edition Serigraphs
Serigraphy is the most traditional of the print making processes that Arvid employs. To create a serigraph, the colors of the original painting are separated onto different screens and each screen is used to print a different color by forcing the pigment through a fine screen. Arvid uses from 20 to 40 plus screens (many that he hand paints during the process) to create his serigraphs. Once the prints have been created, all of the screens are destroyed. His serigraphs currently include limited editions in wine crates, a triptych of sketches on paper, and a stunning pair of limited editions on clay board.
Sublimations on Metal
Sublimation on metal is the newest and most innovative of the limited editions Arvid offers. The image of the original painting is initially printed on transfer paper, which is adhered to a sheet of pre-treated aircraft aluminum. The aluminum and the paper are then subjected to extreme heat and pressure, causing the dyes from the paper to turn into gas, which is pressed into the surface of the aluminum. Once the print cools, the dyes are permanently infused beneath the surface of the aluminum. As with his other limited editions, Arvid puts his sublimations through a rigorous proofing process, resulting in prints of unparalleled beauty. No other process is able to capture the depth, contrast, and richness of Arvid's oils quite the way sublimations do. With the high sheen of the metal and the contemporary feel, these limited editions don't just represent the originals, they actually transform them.