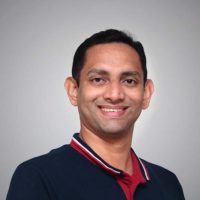 ---
Picture This artist Thomas Jacob was featured on Global News!
Credit to Global News Edmonton
---
Thomas Jacob is a miniature artist based in Edmonton specializing in carving miniature sculptures on the tips of a pencils, chalk and crayons. He won the Jury Award at 10th Edition of Internationale d'art Miniature 2019, held at Levis, Quebec.
Born in India, Thomas developed an interest for sculpting and modelling small things from very young age. He started with small clay sculptures. At age of 10 he started experimenting with miniature sculptures on broken chalk pieces. This later developed into his passion which he developed into a professional art form over the years. From chalk to tips of pencil graphite, all his work has been self-taught, through years of practice, patience and experimentation.
His works had been exhibited in various parts of the globe. He conducts workshops for students to introduce them to miniature art. In January 2019, a dedicated Miniature Art gallery was opened for the public in Mysore, India, showcasing 30 of his miniature sculptures.
Artistic Approach:
His works are mostly inspired by people and everyday events. He keeps them as realistic as possible at such small scale. Each work is hours of hard work with precision. All his miniature sculptures are done with bare eyes.
Exhibitions:
International d'art Miniature, Levis, Quebec. Jun to Sep 2019
Tagore Theatre, Trivandrum, India. 2-3 Feb, 2019
Shankaraa Foundation, Bangalore, India. 8-9 Dec, 2018
Durbar Hall Art gallery, Cochin, India. 2-7 Oct, 2018
Folly Hall, Amethyst, Chennai, India. 3-4 Mar, 2018