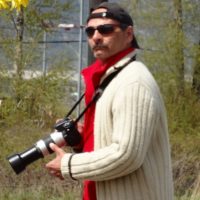 Tim is of Métis descent tracing his roots back to the original Red River settlement, Tim was born in 1965. Tim is an avid fisherman and outdoorsman and never goes anywhere without his camera.
Tim completed a fine arts course on realism in acrylic and oil painting under the tutelage of Don Stefanzo in 1982-84. He started carving soapstone in 1999 with world renowned Inuit artist George Arlook. He carved with George Arlook for 3 years. In April 2008 Tim attended Robert Bateman's master artist seminar. In June 2008 Tim attended Daniel Smith's painting workshop in Penticton B.C. where he also met Terry Isaac. Since meeting Terry Isaac Tim has attended 5 of Terry's painting workshops and has become very good friends with Terry.
Tim's concept of carving is a negative approach to the medium. Rather than carving the actual figure within the stone, it is his artistic approach to just take away what does not belong; releasing the subject from what encases it. He carves mainly North American birds and mammals in a realistic manner but that being said sometimes they get a little bit abstract because a carver can only do what the stone allows you to do.
Tim does stone etchings which also might be called stone scratching. One day Tim was working on a commissioned wolf head carving and he had to cut a slice off the back of the  carving to straighten the carving out as the client wanted it to be as a wall mount. Being a fan of scratch art he thought he would try to draw on the piece of stone that he had sliced off the carving so he sanded and polished the piece of stone. He drew (scratched) a Loon onto the stone. He has created and  sold hundreds of these stone etchings (scratchings).
Tim is represented by the Wahsa Gallery at the Forks Market in Winnipeg, Manitoba and Picture This Gallery in Sherwood Park Edmonton Alberta.