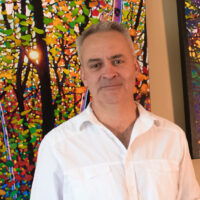 Tim Packer is an internationally recognized painter and workshop instructor from Whitby, Ontario. Born in Toronto in 1961, his formal art education began at the age of 12 and continued through his late teens when he studied graphic design at George Brown College. He spent several years as a "starving artist" during the recession of the early 80s until finally surrendering to the pressures of earning a living and getting a "real job." At the age of 21 he made a major life change and joined the Toronto Police Service as a constable. He then went on to have a very successful 18-year career as a police officer, though he continued to pursue his love of painting on his own time. In January of 2000 he resigned from his position as a police detective to pursue his art career full time.
Since then his progress and success as a professional artist has been incredibly rapid. He has participated in many international competitions across North America receiving many awards and honours. He is an elected member and past president of the Canadian Society of Painters in Watercolour, and a Senior Signature Member of the Canadian Institute of Portrait Artists. His work has represented Canada at the 2000 International Biennial in Mexico and can be found in a number of private and public collections around the world.
Packer is also well respected as a teacher after conducting numerous workshops across Canada and the U.S. He has been engaged several times by the McMichael Canadian Collection as their artist in residence, and in 2006 was one of the feature instructors at the National Symposium of the Canadian Society of Painters in Watercolour at the University of Calgary. In 2006 he became involved in leading edge internet technology as one of the founding artists of Art Academy Live, a revolutionary company offering art workshops over the internet. The Pinehurst, NC, Company made history in 2006 when it conducted the first ever live interactive webcasts. These actually allowed the online students to pose questions and receive the answers in real time during the demonstration.
The continual searching to find his voice finally led to the vibrant impressions of the Canadian Shield that have now become his hallmark. His bold oils rely on a strong sense of design and the abstract patterns found in the natural world, often combined with dramatic light. The paintings often look quite representational from a distance, only to dissolve into countless strokes of intense color when viewed up close. The overall effect of his work is often compared to bright sunlight shining through a stained glass window. The overwhelming response to his original paintings has caused him to put his teaching career on hold and focus exclusively on meeting the demand for new paintings. His original oils can be found at Gallery  in Ottawa. Packer also participates in the annual Autumn Fundraiser at the McMichael Canadian Collection and was the top selling artist in the 2007 show. On any given day he can usually be found painting in his studio in Whitby, where he and his wife live with their two sons and faithful companion, Marley the dog.