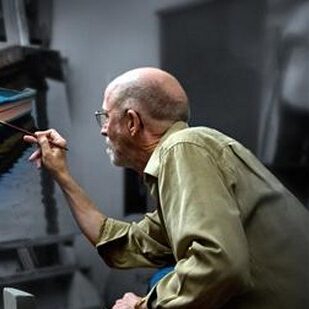 Tom Swimm, a southern California oil painter is known for his exceptional use of light and color. His Light Scapes paintings are collected throughout the world and are available in Limited Edition Serigraphs, Giclees and Lithographs.
A self-taught artist who has been painting since childhood, his work conveys a remarkable realism that gives one a sense of "being there." Upon first viewing, people frequently comment that his paintings look almost photographic, but after studying them, his work reveals properties that are distinctly impressionistic.
Merging these two disciplines is the focus of the artist's technique and is a method that is continually evolving. In this artist's own words: "Light is the most important aspect of my work and offers the ultimate challenge and reward. To capture its elusive qualities on canvas offers deep personal satisfaction – it's what I thrive on artistically." With numerous one-man shows, exhibitions and awards to his credit, his work is internationally collected and nationally represented. His original oils and serigraphs hang in many important private and corporate collections and are currently on exhibit in galleries in Laguna Beach and Carmel, California; and in Hawaii, Florida and Colorado.