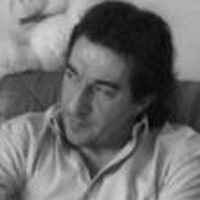 Vidan was born in the picturesque city of Perugia, which is nestled between the elegant cities of Rome and Florence. In his youth, Vidan realizes immediately his passion for the arts.
His vocation was established instantly and pursued with zeal thus attending some of the finest art schools in Italy to include the Liceo Artistico di Milano and later the Accademia delle Belle Arti in Brera. Since moving to the U.S in 1988, Vidan was grown and is recognized today as a strong force in the very competitive world of romance artists.
Vidan has followed in his uncle Pino's footsteps in so many ways. Entering the fine art world after twenty successful years in the commercial arts was a natural transition. For the last twenty years he had the privilege to paint along side Pino in his New Jersey studio. Vidan has recently been invited to attend the Prix de West show in Oklahoma City, the prestigious show that put Pino on the map. Vidan is the natural heir to Pino's audience, and we can't see any other figurative artist to challenge his strength.
Vidan's original portraits and landscapes are found in many prestigious galleries, earning him a reputation as one of the world's premier expressive artists.