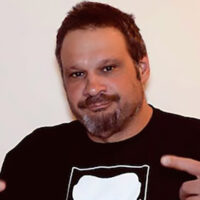 Vincent 'Vinny' Raffa was born in Eastchester, Westchester in New York. He started his career in 1987 with Dead End Streetwear, a clothing company. As he grew closer to skate culture, he turned towards printing Dead End art – which was created by skaters – onto skateboard decks.
Vinny wasn't a skateboarder himself and for someone of his reputation among skaters (very well liked), that was pretty unheard of. But his support for skaters and artists was huge and that made a big impact.
A very large factor of a skate company is its stickers. Some might say if you don't have stickers, you're not a skate company. So of course, Vinny started to make stickers which brought him into the world of street art. Vinny makes his own graphics for his stickers and loves the process. His stickers are now all over the world. Many people have seen his stickers but do not know who Vinny actually is. He's a huge supporter of budding street artists.
Vinny Raffa's stickers are now available as art on posters.