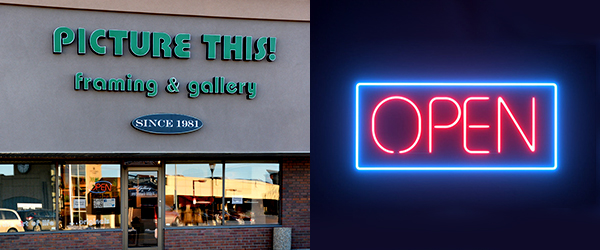 YES, our store is open! All restrictions are removed and out of  respect for your health we can wear a mask if requested.
In addition to in-store shopping we also offer free home pickup and delivery, and one-on-one appointments. For details please call us at 780-467-3038, or book a one-on-one appointment here.
NEW... we're also offering online concierge shopping! Book a video chat and our sales staff will virtually show you around the gallery, or even pick framing options with you, all from the comfort of your own home!
Thank you for your continued support!
Stay safe, and stay healthy.
From all of us at Picture This
since 1981

Call 780-467-3038
We'll call you to setup a time

Call us when you are at the curbside

We'll place the wrapped item in your trunk or

in front of gallery door

Call 780-467-3038
We pick up items from your door

You'll receive multiple framing options and a free quote

Receive framed items to your door!

Free shipping and handling in Canada
Call 1-800-528-4278
Purchase any art or picture framing

We'll pack and ship to you FREE

Track your purchase with the provided tracking number!
Over the phone

Secure online invoice

Interac e-Transfer
We're not accepting cash at the moment. Thank you for your understanding.
Please do not send credit card information via email. Always call to provide credit card numbers: 780-467-3038