An update for our clients, December 2020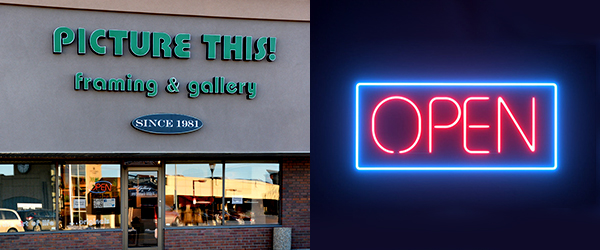 We've been receiving a lot of questions regarding the new restrictions, here is an update:
First of all, YES, our store will still be open going into Christmas! We are following new safety guidelines for 15% reduced capacity, in addition to masks for all staff, acrylic screens, and social distancing.
You can still visit the gallery following safety protocols. If you have picture framing with us, you'll be able to pick it up once complete. And if you'd like to get something new framed we can do that as well!
Second, in addition to in-store shopping we also offer curbside pickup and drop-off, free home pickup and delivery, and one-on-one appointments. For details please call us at 780-467-3038, or book a one-on-one appointment here.
NEW... we're also now offering online concierge shopping! Book a 15 minute video chat, and our sales staff will virtually show you around the gallery, or even pick framing options with you, all from the comfort of your own home!
Lastly, if you're not feeling well we'd ask that you not visit the gallery at this moment. Of course, we'd be happy to help you online or with one of our alternative shopping options.
Thank you for your continued support! Stay safe, and stay healthy.
From all of us at Picture This
What we're doing...
We are following safety guidelines provided by AHS Alberta Health Services and the government of Canada:
Reduced store capacity

Masks for all staff

Acrylic screens at the framing tables

Washing and sanitizing hands frequently

Social distancing

No shaking of hands or hugs at this time (sorry)
Our hearts go out to the families affected by COVID-19.


Call 780-467-3038
We'll call you to setup a time

Call us when you are at the curbside

We'll place the wrapped item in your trunk or

in front of gallery door

Call 780-467-3038
We pick up items from your door

You'll receive multiple framing options and a free quote

Receive framed items to your door!


Free shipping and handling in Canada
Call 1-800-528-4278
Purchase any art or picture framing

We'll pack and ship to you FREE

Track your purchase with the provided tracking number!
Over the phone

Secure online invoice

Interac e-Transfer
We're not accepting cash at the moment. Thank you for your understanding.
Please do not send credit card information via email. Always call to provide credit card numbers: 780-467-3038