Coyote In Winter Sage
Robert Bateman
Limited Edition Print
Giclée Canvas
68 × 46 in
Artwork Description
"The coyote, or brush wolf, is our North American wild dog. Unlike the wolf, he seems to understand the ways of man and attempts to benefit from his presence. Although commonly thought of as howling at the moon in cowboy country, he may be found in rugged mountains, apparently barren deserts, swamps or woodland. He may be found near large, urban centers, eating a varied diet from mice to insects to garbage.
Although in demeanor he can be fidgety and sulking, I have chosen to give him a noble pose. I do not believe in the discrimination against certain animals. I like to treat them all with respect. We may have to compete with them and even kill them on certain occasions, but that does not mean that we should look down on them.
He is standing on an old glacial gravel ridge, among winter sagebrush. I enjoyed the austere colors and rich textures and forms.
In this painting I have placed some evidence of man's endless capacity to litter the natural world. The coyote lives in country where trail bikes and snowmobiles provide "recreation" which is often heedless of the sanctity of nature." – Robert Bateman
---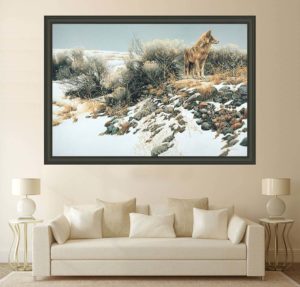 Robert Bateman's showstopper canvases offer you the opportunity to see these paintings in their original size, and to fully appreciate their full depth and beauty. At this scale they are truly stunning. Giclée printing is still the finest method available. These large format giclées are the best way to enjoy the paintings of Canada's favorite artist.
Available as:
46″ x 68″ – Renaissance Edition Showstopper Giclee Canvas – Edition Size 99
27″ x 40″ – Renaissance Edition Giclee Canvas – Edition Size 250