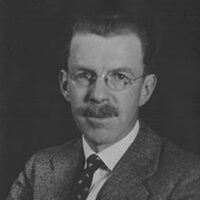 Biography of
Franklin Carmichael
Franklin Carmichael was born in Orillia, Ontario in 1890. His father was a carriage maker. Carmichael arrived at Toronto when he was 20 years old and entered the Ontario College of Art in Toronto, where he studied with William Cruickshank and George Reid. In 1911, he began working as an apprentice at Grip Ltd. for $2.50 a week. He then joined Tom Thomson and other painters who were training to be serious artists. On weekends, Carmichael went on sketching trips with the other artists. In 1913, Carmichael went to Belgium to study painting but came back to Ontario to rejoin with the rest of the artists. After returning to Canada because of World War I, he painted watercolors and oils of Northern Ontario landscapes. Carmichael was greatly influenced by Tom Thomson and shared space with him at a studio building in 1914. Carmichael married in 1915 and spent a lot of his time with his family. He was also on the fringe of the group because of his difference in age and was closely associated with the newer members of the Group of Seven.
Carmichael along with A. J. Casson and F. H. Brigden founded the Ontario Society of Painters in Watercolour in 1925. He also founded the Canadian Group of Painters in 1933. He taught at the Ontario College of Art from 1932 to 1945.
Many of his paintings are about small towns in Ontario. He was famous for his watercolor painting and was influenced by other Group of Seven artists.