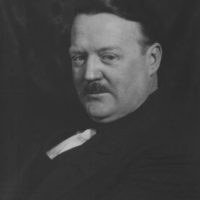 Biography of
Franz Johnston
Franz Johnston born in Toronto in 1888, was a Canadian artist associated with the Group of Seven. Although his official association with the Group of Seven was brief, his friendship with the artists dated back over a much longer period. As a commercial artist at Grip Ltd., he was involved with the circle of young artists working there, whose ideas about Canadian art led to the formation of The Group. When he joined the firm around 1908, his fellow Grip workers included J. E. H. Macdonald and Tom Thomson, and later Arthur Lismer and Franklin Carmichael signed on. Through those men and as a member of the newly founded Arts and Letters Club, he met other artists, including Lawren Harris – all painters with new and exciting ambitions for Canadian art.
Johnston had much in common with these artists. Like them, in the years before World War I he used his spare time to pursue landscape painting, through sketching trips around Toronto and farther north to Bon Echo near Algonquin Park and to Hearst, north of Lake Superior — a source of inspiration for him. An eager participant in Group activities, Johnston went on all the Algoma trips except the last. Johnston did not use the techniques of Harris and MacDonald but,employing tempera rather than oil paint, he searched out the pattern and texture of his subject. The effect is more linear and decorative than that of his fellow artists, yet Johnston's paintings show the viewer the subtle colour relationships and interplay of forms in the foliage, rocks, and sky.
Johnston exhibited with The Group of Seven only once, in their first show in May of 1920. A man of staggering energy and enthusiasm, Johnston had an amazing rate of production. In the 1919 Algoma show he contributed sixty works – more than any other artist. In the fall of 1921, Johnston left Toronto to accept the position as principal of the Winnipeg School of Art. There he held the largest show ever seen in that city. He had been slowly moving away from the Group movement, and now the break was complete. In 1924, he announced his official resignation, claiming that he had no disagreement with the group, only that he wanted to go his own way with regards to exhibitions. In 1927, he changed his name from Frank Johnston to Franz Johnston.