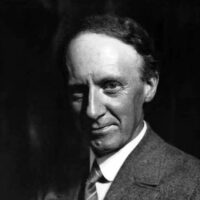 Born in Durham, England in 1873.  MacDonald came to Canada as a teen with his English mother and Canadian father (1887). He started to study art in Hamilton and Toronto. MacDonald worked at a Toronto commercial art firm, Grip Ltd., from 1895 to 1911. There he became the art director and is well known for his excellent commercial design work. He supervised many artists including Frank Johnston, Tom Thompson, Arthur Lismer and Franklin Carmichael.  Mac Donald was the oldest and a founding member of the Group of Seven. He met and became friends with Lawren Harris at an exhibition in Toronto at the Arts and Letters Club in 1911 and together formed the Group of Seven.
In 1917 MacDonald had a brief pause in painting to pursue poetry (a number of which were published). This was caused by many reasons, including the death of his dear friend and fellow artist, Tom Thompson. In the fall of 1918 MacDonald went on boxcar painting trips to Algoma with Harris, Johnston, and Dr. James MacCallum. There he found his inspiration for many of his famous paintings. Unable to remain a self-employed commercial designer, MacDonald returned to full-time employment as a teacher at the Ontario College of Art in 1922. His major sketching trips were held off till school holidays. He traveled to the Lake O'Hara region in 1924 which then became and annual trip until 1930. In 1931, MacDonald suffered a stroke and took a recovery trip to Barbados in early 1932. Later in the fall he died. Soon after his death the Group of Seven fell apart and ended.
J. E. H. MacDonald was known for his rich colored landscapes of Canada with bold treatments.