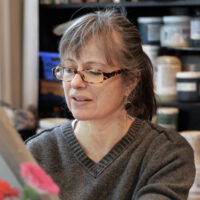 Nicoletta started out as one of those kids who was always drawing and making things. Her first amateur art exhibition was at sixteen, her first professional one at twenty-one while still in art college.  Art has been her career, full of many awards and accolades.  She is a sought after and experienced speaker, teacher, workshop leader and juror.   Nicoletta's early work was largely based on the natural world in exquisite and accurately realistic botanical works.  Subsequent developments of idea and theme led her to focus primarily on the human perception of reality.  The paintings meld personal experience with concepts from many branches of science especially psychology, sociology and neurology, plus additions from physics, geology, philosophy and artificial intelligence. Her choice of style and medium are tailored to the subject  being expressed and range from photo-realism to non-objective realism in either watercolour, oil or acrylic. "I am on a beautiful and intriguing quest investigating the sense of sight from a focus on realism extending to the perception of reality. I want to share my joy of seeing in paintings that are both visually and conceptually engaging. I hope that my work will nurture and stimulate those that see it."
CREDENTIALS:
EDUCATION
BFA, dipBFA
SELECTED EXHIBITIONS
2019
MAJOR Show Realm of Perception Surrey Arts Centre Surrey, B.C.
Group Show Art Coutour White Rock, B.C.
FCA Works on Paper Vancouver, B.C.
2018
FCA Works on Paper Second Prize Vancouver, B.C.
FCA Aquarelle et Pastel Honourable Mention Vancouver, B.C.
2017
NSCAD "Underpinnings" Halifax, N.S.
Group Show "Order & Chaos" International Art Gallery, Vancouver, B.C.
SOLO SHOW "Simple Pleasures" Hycroft Gallery, Vancouver B.C.
SOLO SHOW "Just Abstracts" Hycroft Gallery,Vancouver B.C.
2016
SOLO Show, "Just Blooming" Elgin ARt Gallery Surrey, B.C.
75th Anniversary Show Federation Vancouver, B.C.
FCA AIRS Realism show Vancouver, B.C.
FCA Concept show Vancouver, B.C.
2015
NSCAD "I am NSCAD" Halifax, N.S.
Views from the Southbank Surrey Arts Centre
Golden Cactus Gallery White Rock, B.C.
FCA Abstract Exhibition Vancouver, B.C.
2014
FCA Abstract Exhibition Vancouver,B.C.
FCA Success Exhibition
FCA POTE Exhibition
FCA Paint by Numbers
2013
FCA POTE Exhibition
FCA Spilsbury Show
FCA AIRS Vancouver, BC
2012
FCA POTE show Vancouver, BC
FCA Still Life Vancouver, BC
FCA Canvas Unbound
Botanical Artists of Canada Award: Best Watercolour Vancouver, BC Toronto, Ont
2011
FCA 70th Anniversary Show First Prize Award Vancouver, BC
FCA Small Smaller Smallest Vancouver, BC
FCA AIRS Vancouver, BC
Eighteenth Annual Studio Tour Surrey, BC
2010
Grand Forks Art Gallery: Rembrandt's Attic Vancouver, BC
Seventeenth Annual Studio Tour Vancouver, BC
FCA POTE Award Opus Art Supplies Vancouver, BC
FCA Abstract Show Surrey, BC
2009
FCA Abstract Show Vancouver, BC
FCA Small Smaller Smallest Vancouver, BC
Sixteenth Annual Studio Tour Vancouver, BC
SOLO SHOW Launch of the Abstract Vancouver, BC
2008
FCA POTE Vancouver, BC
FCA Small Smaller Smallest Vancouver, BC
Fifteenth Annual Studio Tour Fort Langley, BC
2007
FCA Semi-Abstract SHOW Award of Excellence Vancouver, BC
FCA Canvas Unbound II Vancouver, BC
2006 FCA POTE Vancouver, BC
2005 FCA POTE Stafford Plant Award Surrey, BC
2002
International Conference on Meaning Vancouver, BC
B.C. Festival of the Arts Surrey, BC
2001
Eighth Annual Studio Tour Solo White Rock, BC
FCA Water Everywhere
2000
Federation of Canadian Artists Vancouver, BC
Van Dusen Botanical Gardens Duo Vancouver, BC
1999
Granville Island Presents Vancouver, BC
Van Dusen Botanical Gardens Duo Vancouver, BC
1998
"Turning Leaves" Solo White Rock, BC
"The Simple Pleasure of Seeing" Solo White Rock, BC
"20 Years of Nicoletta Baumeister" Solo Kitimat, BC
"Stepping Forward, Stepping Back" Duo Grand Forks, BC
1997
Germany "Distances" Solo Lindau, Germany
Van Dusen Botanical Gardens Duo Vancouver, BC
Croyden Art Professionals Surrey, BC
Women's Place Surrey, BC
1996
Canadian Watercolour Society Courtenay, BC
Croyden Group Show Surrey, BC
Surrey Arts Centre First Prize
Van Dusen Botanical Gardens Duo Vancouver, BC
PUBLICATIONS
Interviews
2019 CBC Radio NorthxNorthwest Cheryl Mackay Radio interview
2001 CBC Television/Reactions to 9/11 T.V.Interview
2001 CBC Early Morning Program/ 15 min Interview
Books
2019 In the Realm of Perception Monograph Surrey Arts Centre
Newspaper/Magazine
2019 Feature article Peninsula Neighbour
2019 March Westcoast Home & Design Gallery Review
2019 January Peace Arch News/Surrey Leader Alex Browne & Tom Zillick
2015 January Now Newspaper by Kristi Alexandra
2009 October Peace Arch News by Alex Browne
2003 Dec/Jan International Artist Magazine pg 100 Master Painters / Canada Showcase
PRESENTATIONS
2020 Science World Perception Vancouver, B.C.
2019 Art Tour "In the Realm of Perception" Surrey Arts Centre Surrey, B.C.
2018 Delta Art Guild Delta, B.C.
2018 Maple Ridge Art Guild Maple Ridge B.C.
2018 Arts West Surrey, B.C.
2017 Richmond Art Guild Richmond, B.C.
2015 (2) FCA Workshops Abstract art Vancouver, B.C.
2015 Opus demonstration Langley, B.C.
2012 Arts West Abstraction Surrey B.C.
2010 Artists in our Community White Rock Lecture Series White Rock B.C.
2009 Arts West Composition Surrey
2000 Arts for Life Symposium for Young Artists Richmond Art Gallery
OTHER ACHIEVEMENTS
Juror
Community Arts Council of White Rock
Community Arts Council of Surrey
Federation of Canadian Artists
PGA Tournament Exhibition
Cloverdale Raceway Competition
Boards
2009-10 Board of Directors White Rock Museum
1993-6 Board of Directors – Surrey Arts Council Director of Business and the Arts
Projects initiated:
– PGA Poster competition
– Cloverdale Raceway Competition
– Cultural Hotsheet
Teaching
2014-2019 Surrey Arts Centre Watercolour & drawing
2005-20 Richmond Art group Watercolour
2005-20 Elgin Art Centre Art History & Beginners clay
2005-20 Art Classes (17 to 24 years old) Private
2005-20 Classes for individuals (8 – 70 years old) Private
2011 Abstraction -weekend workshop Vancouver, FCA
96-02 Group classes ( 5 to 7 years, 8 to 12) W.R.Community Arts Council
2002 Drawing 8 to 12 years old Semiahmoo Trails Elementary