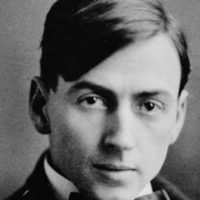 Tom Thomson was born near Claremont, Ontario and grew up in Leith, near Owen Sound. Some biographers report that in 1899 he tried unsuccessfully to volunteer to fight in the Second Boer War, and instead went to a business college in Chatham and later in Seattle, Washington. In 1904 he returned to Canada, and in 1907 joined an artistic design firm in Toronto where many of the future members of the Group of Seven also worked. With his colleagues he often travelled around Canada, especially to the wilderness of Ontario, which was a major source of inspiration for Thomson. His first exhibition was in 1913. Beginning in 1914 he acted as a fire fighter and guide in Algonquin Park in Ontario. During the next three years he produced many of his most famous works, including "The Jack Pine and The West Wind."
He was employed as a graphic designer with Toronto's Grip Ltd., an experience that honed his draughtsmanship. Although he began painting and drawing at an early age, it was only in 1912, when Thomson was well into his thirties, that he began painting seriously. His first trips to Algonquin Park inspired him to follow the lead of fellow artists in producing oil sketches of natural scenes on small, rectangular panels for easy portability while traveling. Between 1912 and his death in 1917, Thomson produced hundreds of these small sketches.
Thomson disappeared during a canoeing trip on Canoe Lake in Algonquin Park on July 8, 1917, and his body was discovered in the lake eight days later. The official cause of death was accidental drowning but there are still questions about how he actually died.  There are many different rumours and theories that surround Thomson's mysterious death.  In September 1917 artists James E. H. MacDonald and John W. Beatty, assisted by area residents, erected a memorial cairn at Hayhurst Point on Canoe Lake, where Thomson died. Although the Group of Seven was not officially founded until after Thomson's death, his work is sympathetic to that of group member's A. Y. Jackson, Frederick Varley, and Arthur Lismer. These artists shared an appreciation for rugged, unkempt natural scenery, and all used broad brush strokes and a liberal application of paint to capture the stark beauty and vibrant colour of the Ontario landscape.