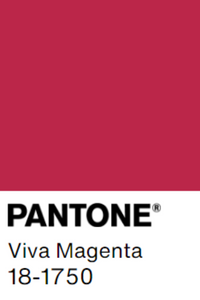 This year's Pantone Colour of the Year is Viva Magenta 18-1750, a vibrant colour based on the cochineal colour family of fuchsias, reds and purples. The colour itself galvanizes our spirit with its vigour, and as part of the red family is expressive of new strength. A good choice for a new year free from the rigours of the pandemic manifesting self-expression and experimentation. 
If you have ever used paint swatches you would have noticed the name Pantone. This colour system was the brainchild of Lawrence Herbert, who launched the system in 1963. It is now used all
 over the world in fashion, décor, graphic design, and printing, and allows designers and manufacturers to match colours with one another. 
Selection of the Colour of the Year is the culmination of extensive research into new influences around the world in art, fashion, technology, and travel destinations to name a few. 
Fun Fact: Cochineal is actually produced by pulverizing insects from tropical and subtropical America and is certainly one of the most precious of dyes. For one pound of dye, 70,000 insects are required. It is commonly used in cosmetics, drugs and food additives. 
For more info on this colour in framing or art. Contact us . We are happy to help!