Picture This artist Catherine Marchand collaborated with TLC star Jeremy Vuolo on a project to surprise his wife Jinger (Duggar) with an original oil painting for her 25th birthday.
Everything began when Jeremy saw a painting Catherine had done of R.C. Sproul, a well-known theologian from Florida. Jeremy then commissioned Catherine for a painting of his wife and daughter.
Catherine was honoured by the request. She knew of the Duggars' previous TV show, 19 Kids and Counting, adding: "This was a wonderful opportunity and I was honoured by the challenge". California photographer Jesse Hsu snapped photos with the artist's guidance. Catherine explains, "I really love to tell a story with my work, and it was important to have a natural pose with the right lighting and thanks to Jesse, I found the perfect pose to do just that." This was done without Jinger's knowledge of the painting. The painting took a month to dry and varnish before Catherine framed and shipped it.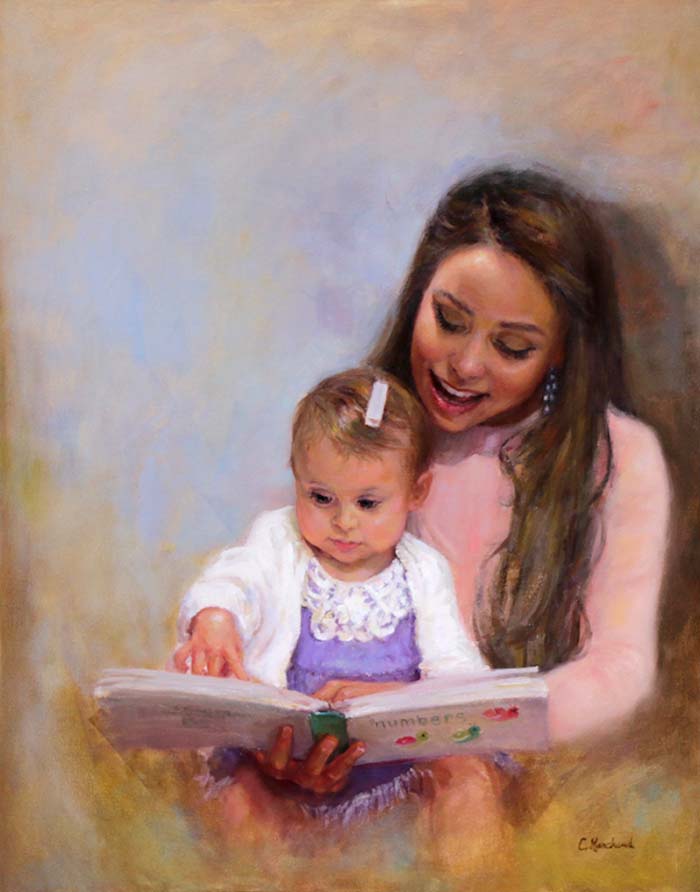 This past December, Catherine and her husband were invited to California: "We were thrilled to be invited down to join in the party and for the reveal. To see Jinger's face in person was worth the trip, and we enjoyed meeting everyone. They were down to earth and very welcoming."
Catherine's painting was featured on the August 18 episode of TLC's Counting On. Catherine Marchand loves telling a story of the people she paints, giving you a sense of their spirit. She is inspired to capture the God-given beauty everyone has within. Whether whimsical or traditional, her style is classified as Romantic realism, and each painting expresses a life of its own.
View artwork by Catherine Marchand
---
Reposted with permission of the artist. Original article here