watercolour Painting workshop with
Graham Flatt
Workshop completed. Thank you to all the participants. We hope to see you again!
---
Interested in taking this workshop? No worries! We host several workshops year-round, both with new and returning instructors.
Contact us and we'll let you know when new workshops are available, or view our upcoming workshops here.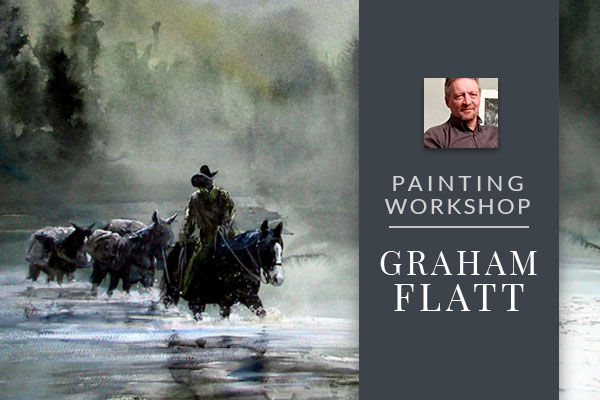 Graham Flatt is an award-winning master watercolourist who has been instructing painting workshops for over 20 years. Dubbed the "Monty Python of Watercolour", Graham will lead you on a journey that makes watercolour fresh, fantastic and fun!
 Graham's no holds-barred approach to the medium allows the individual to experience watercolour as they have never seen it before. Small class size and lots of personal attention allow the participant to understand and embrace their own personal creative process in a safe and supportive environment while moving forward on their painting journey without fear.
Graham's rapid fire humour, endless energy, and straight-forward instruction make each and every one of his workshops a uniquely empowering experience. Limited spots available, register today!
About Graham Flatt
Graham Flatt is a western artist whose images reflect his passion for painting. Primarily self-taught in the areas of design and composition, Flatt has attended a variety of watercolor workshops over the years.  His dedication to painting has allowed him to experience many influences, which has ultimately resulted in his signature style of painting.
Painting , sculpture, and photography workshops
Learn from professional artists who show and sell their art in fine art galleries. These two or three-day workshops are the perfect opportunity to embrace your own personal creative process. Plus, small class sizes mean students get individually tailored guidance.